Tomato Basil Pizza
Yield: 2 to 4 servings, two 8-inch pizza or one 12-inch pizza
1 can (10 ounces) refrigerated pizza dough
or
Basic Pizza Dough:
1 envelope (1/4 ounce or 2 1/4 tsp) active dry yeast
3/4 cup warm water (105 F to 115 F)
2 cups all-purpose flour
1 teaspoon salt
Sprinkle yeast over water in a small bowl; stir to dissolve yeast. Let stand about 5 minutes. Stir in flour and salt to make a soft dough. Turn dough onto lightly floured surface. Knead until smooth and elastic, about 5 minutes, adding more flour if necessary. Shape into a ball. Place in a greased bowl; turn to coat. Cover and let rise in warm place until doubled in size, about 1 hour.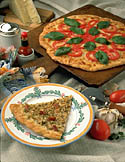 Topping:
yellow cornmeal
1 cup shredded Mozzarella Cheese
4 ripe seeded Italian plum tomatoes, sliced
1/2 cup fresh basil leaves
1/2 teaspoon Tabasco brand Pepper Sauce
Olive oil
Preheat oven to 425 F.
Prepare 12-inch round pizza crust according to package directions.
Sprinkle two large baking sheets or jelly-roll pans with cornmeal. Punch down dough. Divide dough in half; roll or pat each dough piece into a 8-inch round if making pizza. Place on baking sheet.
Dust crust with cornmeal ( about 2 tablespoons). Distribute Mozzarella Cheese evenly over crust. Layer with tomato slices and basil leaves. Drizzle with Tabasco Pepper Sauce and olive oil.
Bake 15 minutes, or until crust is golden brown.