Mussels with Aquavit, Cream, and Tarragon
Mussels are very cooperative. You have the luxury of deciding how much or how little you want to do to them. I think they are best when you treat them gently, just using herbs, shallots, and a touch of aquavit as you steam them. Adding cream along with the tarragon and fennel to the cooking liquid produces a rich and velvety sauce.
Yield: serves 2 as a main course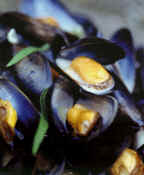 2 pounds whole fresh mussels, cleaned
1 tablespoon butter
3 tablespoons finely chopped shallots
1 clove garlic, crushed
1 tablespoon fresh tarragon leaves
1 teaspoon chopped fresh thyme
2 teaspoons tarragon vinegar
1 teaspoon fennel seeds
1 tablespoon aquavit or brandy
1 ounce heavy cream or crème fraîche
Place the mussels under running water. Remove any stringy bits hanging from the shells and throw out any mussels with cracked shells or with shells that do not close properly when they come in contact with the cold water.
Heat the butter in a pot just large enough to hold the mussels. Sauté the shallots and garlic for 4 to 5 minutes on medium heat. Add half the tarragon, the thyme, vinegar, fennel seeds, aquavit, and mussels and cover the pot with a lid. Steam for 6 to 7 minutes on medium-high heat until the mussels have opened.
Transfer the mussels (not the cooking juices) to a large serving bowl. Add the cream to the pot of cooking juices; cook on medium-high heat for 3 minutes until slightly reduced. Season with salt (should not be necessary) and maybe a little more garlic. Pour the cooking juices over the mussels, sprinkle with the rest of the tarragon leaves, and serve.
Source: Kitchen of Light by Andreas Viestad