Giant Spiced Fan Tan
Yield: 1 loaf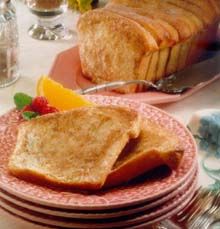 3 to 3-1/2 cups all-purpose flour
2 tablespoons sugar
1 envelope (1/4 ounce or 2 1/4 tsp) Fleischmann's RapidRise Yeast
1 teaspoon salt
1/2 cup water
1/4 cup milk
1/4 cup butter or margarine
1 large egg
1 tablespoons butter or margarine, softened

Sugar-Cinnamon Filling:
1/4 cup sugar
1 teaspoon ground cinnamon
1/4 teaspoon ground nutmeg
Sugar-Cinnamon Filling:
In a small bowl, combine sugar, ground cinnamon, and ground nutmeg. Stir to blend. Reserve 2 teaspoons for topping.
In a large bowl, combine 1 cup flour, sugar, undissolved yeast, and salt. Heat water, milk, and 1/4 cup butter until very warm (120 to 130 F). Gradually add to flour mixture. Beat 2 minutes at medium speed of electric mixer, scraping bowl occasionally. Stir in egg and 1/2 cup flour; beat 2 minutes at high speed. Stir in enough remaining flour to make a soft dough. Knead on lightly floured surface until smooth and elastic, about 8 to 10 minutes. Cover; let rest 10 minutes.
Roll dough to 12 x 6-inch rectangle; spread with softened butter. Evenly sprinkle with Sugar-Cinnamon Filling. With sharp knife, cut dough lengthwise in half. Stack both halves; cut crosswise into 6 pieces. Arrange stacks, standing up with longer sides horizontal to bottom of greased 8-1/2 x 4-1/2-inch loaf pan. Place spiced surfaces of end slices face inward to prevent outer ends from over-browning. Cover; let rise in warm, draft-free place until doubled in size, about 45 minutes.
Evenly sprinkle top with reserved Sugar-Cinnamon Filling. Bake at 350 F for 35 to 40 minutes or until done. Remove from pan; cool on wire rack.
Nutrition Information Per Serving: Serving size : 1 / 12 of recipe (68 g)
Calories : 210, Total fat : 7 g, Saturated fat : 4 g, Cholesterol : 35 mg, Sodium : 260 mg, Carbohydrates : 33 g, Dietary fiber : 1 g, Sugars : 7 g, Protein : 4 g