Pina Colada Cheesecakes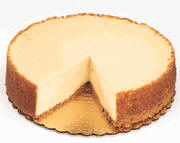 Crust:
1 1/3 cup graham cracker crumbs
1/2 cup coconut
1/4 cup unsalted butter, melted
Filling:
24 ounces cream cheese, softened
14 oz can condensed milk
2 tablespoons cornstarch
4 eggs
1 tsp. rum extract or to taste
1 (3 oz.) can flaked coconut
1 (20 oz.) can crushed, pineapple, well drained
Preheat oven to 425 F.
Combine graham crumbs, coconut, and butter, press firmly on bottom and 1 inch up sides of 9-inch cheesecake pan. Refrigerate.
In a large mixer bowl, beat cream cheese until fluffy. Gradually beat in condensed milk until smooth. Add eggs, add cornstarch. Place rum and coconut in blender and blend. Add to cheese mixture with drained pineapple. Pour into pan.
Place pan in oven, reduce the temperature to 325 F and bake for one hour. Turn off oven and leave inside for 1 hour. Do not open oven door!!
Chill overnight before removing from pan.
Next: Tips for baking Cheesecakes