Hot Fudge Sundae Cake
A warm, delicious way to enjoy a hot fudge sundae! Go ahead and add ice cream for a homemade parlor treat.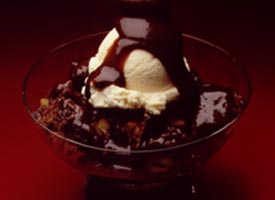 Yield: 9 servings
1 cup Gold Medal all-purpose flour
3/4 cup granulated sugar
2 tablespoons baking cocoa
2 teaspoons baking powder
1/4 teaspoon salt
1/2 cup milk
2 tablespoons vegetable oil
1 teaspoon vanilla
1 cup chopped nuts, if desired

1 cup packed brown sugar
1/4 cup baking cocoa
1 3/4 cups very hot water

Ice cream, buy it or make your own
Heat oven to 350 F.
Mix flour, granulated sugar, 2 tablespoons cocoa, the baking powder and salt in ungreased square pan, 9x9x3 inches. Mix in milk, oil and vanilla with fork until smooth. Stir in nuts. Spread in pan.
Sprinkle brown sugar and 1/4 cup cocoa over batter. Pour water over batter.
Bake about 40 minutes or until top is dry.
Spoon warm cake into dessert dishes. Top with ice cream. Spoon sauce from pan onto each serving.
Special Touch:
Have an ice-scream! Serve up this fun dessert at your next get-together and include other ice-cream toppings such as chopped nuts, crushed cookies, candy sprinkles and maraschino cherries.
Substitution:
Rise to the occasion! If using self-rising flour, there is no need to add baking powder and salt.
Source: Gold Medal Flour, a Reg. TM of General Mills, Inc.
Step-by-step instructions: make your own ice cream.