Texas Cow Patties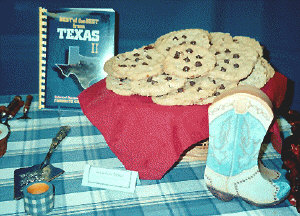 Yield: 2 dozen
2 cups margarine, softened
2 cups sugar
2 cups firmly packed brown sugar
4 eggs
2 teaspoons vanilla
2 cups quick-cooking oats
2 cups cornflakes
4 cups all-purpose flour
2 teaspoons baking powder
2 teaspoons baking soda
1 (6-ounce) package semisweet chocolate morsels
2 cups chopped broken pecans
Cream margarine, sugar, and brown sugar together until light and fluffy.
Add eggs, 1 at a time, beating well after each addition. Stir in vanilla. Add oats and cornflakes to creamed mixture, mixing thoroughly.
Sift flour, baking powder, and baking soda together. Gradually add to creamed mixture, beating slowly to mix. Stir in chocolate morsels and pecans.
Drop by rounded tablespoons onto greased cookie sheets. Bake on top rack of oven at 325 F for 17 minutes. Cool on wire rack.
Source: Changing Thymes
Best of the Best from Texas II Cookbook