Zesty Minestrone
Yield: 4 - 6 servings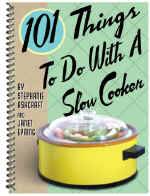 3 cups water
1/2 pounds stewing beef, cut into 1-inch pieces and browned
1/4 cup dried minced onion
20 baby carrots, cut in thirds
1 can (14-1/2 ounces) diced tomatoes
1 teaspoon salt
1 tablespoon dried basil
1/2 cup dried vermicelli pasta
1 1/2 tablespoons dried oregano
1 package (10 ounces) frozen mixed vegetables
1/4 cup grated Parmesan cheese
Combine all ingredients except frozen vegetables and cheese in greased 3-1/2 to 5-quart slow cooker. Cover and cook on high heat 3-4 hours or on low heat 6-8 hours.
One hour before serving, add frozen vegetables. Cover and cook an additional hour. Top individual servings with Parmesan cheese.
Serve with crusty bread and herbed cream cheese spread.
Source: 101 Things to do With a Slow Cooker! by Stephanie Ashcroft & Jane Eyring
more recipes from this book:
- Whole Cranberry Chicken
- Simple Beef Stroganoff
- Carrot Cake