Simple Beef Stroganoff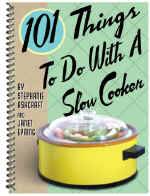 Yield: 4 - 6 servings
1 pound stew meat, cubed
1/2 cup dried minced onion
1 can (10-3/4 ounces) cream of mushroom soup, condensed
1 can (4 ounces) mushrooms, drained
1/4 teaspoon garlic salt
1 cup sour cream*
Combine all ingredients except sour cream in greased 3-1/2 to 5-quart slow cooker. Cover and cook on low heat 6-8 hours. Add sour cream the last hour of cooking.
Spoon over hot noodles. Add a salad of red cabbage and apricots tossed with balsamic vinegar and oil.
*For a richer taste, substitute 1 package (8 ounces) cream cheese.
Source: 101 Things to do With a Slow Cooker! by Stephanie Ashcroft & Jane Eyring
more recipes from this book:
- Zesty Minestrone
- Whole Cranberry Chicken
- Carrot Cake