Cookies-and-Cream Shake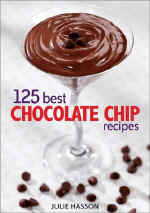 This is a fun shake, especially for those diehard fans of cookies and milk. And when they're served this way, you won't be chasing broken cookie pieces around the cup of milk.
Yield: 2 to 3 servings
6 scoops vanilla ice cream - recipe
1 cup milk (250 ml)
1/4 cup semisweet chocolate chips (50 ml)
4 cream-filled chocolate sandwich cookies
Whipped cream (optional)
In a blender, combine ice cream, milk, chocolate chips, and chocolate sandwich cookies. Blend until frothy.
Pour into glasses and serve immediately with straws.
Garnish with a dollop of whipped cream, if desired.
Variation: Substitute chocolate chip cookies for the chocolate sandwich cookies.
Source: 125 best Chocolate Chip Recipes by Julie Hasson
more recipes from this book:
- Double Chocolate Chip Muffins
- Banana Chocolate Chip Cake