Banana Chocolate Chip Cake
This is not only the ultimate banana bread but also the perfect vehicle for overripe bananas. It is based on a recipe that my mom used to make when my brother and I were growing up. I thought that chocolate chips were needed in an otherwise perfect cake. This cake freezes beautifully, so eat one now and freeze one to enjoy later.
Yield: 8 servings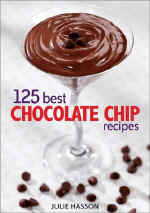 2 1/2 cups all-purpose flour (625 ml)
2 tsp baking soda (10 ml)
1/4 tsp salt (1 ml)
1 cup canola oil (250 ml)
2 cups granulated sugar (500 ml)
4 eggs
2 cups mashed ripe bananas (about 4 large) (500 ml)
1 tsp vanilla (5 ml)
1 1/3 cups semisweet chocolate chips (325 ml)
3/4 cup toasted walnuts (optional) 175 (ml)
Preheat oven to 350 F (180 C)
Two 9- by 5-inch (2 L) metal loaf pans, lined with parchment or waxed paper, greased
In a bowl, combine flour, baking soda, and salt.
In a large bowl, using electric mixer, beat oil and sugar. Add eggs, one at a time, beating well after each addition. Add bananas and vanilla, beating well. Add flour mixture, beating just until smooth. Stir in chocolate chips and walnuts, if using.
Spread batter in prepared pans. Bake in preheated oven for 60 to 65 minutes or until a tester inserted into center of cakes comes out clean. Let cakes cool in pans on racks for 15 minutes. Remove from pans and let cool completely on racks.
Tip: You can easily freeze overripe bananas, skin and all. Just be sure to thaw them before mashing.
Source: 125 best Chocolate Chip Recipes by Julie Hasson
more recipes from this book:
- Double Chocolate Chip Muffins
- Cookies-and-Cream Shake