Liberty Duck Breast with Dried Cranberry-Apple Bread Salad
This recipe was adapted from a dish that Debbie Gold created when she participated in our 2000 American Harvest Workshop. It is made with duck breasts from Sonoma County Poultry, which is owned by Jim Reichardt, a purveyor with whom we have enjoyed a wonderful relationship for a long time. A third-generation duck farmer, Jim left the family business to grow his own ducks in Penngrove, a small town on the eastern side of Sonoma County. There, he raises his liberty ducks exclusively for chefs and gourmet food markets.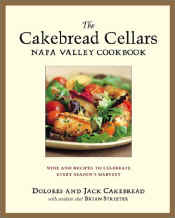 Yield: Serves 4 to 6
4 (6- to 8-ounce) boneless Liberty or Peking duck breasts
2 cups dry red wine
1/2 cup dried cranberries
1/2 cup plus 1 tablespoon extra virgin olive oil
4 cups crustless sweet French bread cubes
1/2 cup pecans, toasted and chopped
1 tablespoon chopped flat-leaf parsley
1 teaspoon fresh thyme
Kosher salt
Freshly ground black pepper
1-1/2 pippin or Braeburn apples, peeled, cored, and diced (2 cups)
1/2 cup brown chicken stock
Trim the duck breasts, score the skin, and set aside.
Combine the wine and cranberries in a medium saucepan and bring to a boil over medium-high heat. Remove from the heat and let sit for 20 minutes, until the berries are plump and moist.
While the berries are sitting, heat the 1/2 cup olive oil in a large nonstick saucepan over high heat. Add the bread and toss to coat evenly with the oil. Cook for 5 minutes, until lightly browned on all sides, tossing occasionally to prevent burning. Transfer to a large bowl.
Drain the cranberries over a small saucepan to catch the wine. Set the cranberries aside. Return the wine to a boil over high heat. Cook for 10 to 15 minutes, until reduced to about 1/4 cup.
Add the cranberries, pecans, parsley, and thyme to the bowl with the bread.
Season the duck with salt and pepper. Heat the remaining 1 tablespoon olive oil in a large saute pan over high heat. Add the duck, skin side down, reduce the heat to medium, and cook for about 6 to 7 minutes, until golden brown. Turn and cook the other side for 3 to 4 minutes, until firm. Transfer the duck to a plate, drain all but 2 tablespoons of the fat from the pan, and return to high heat. Add the apples to the pan and cook for 3 to 5 minutes, until soft and golden brown. Add to the bread mixture.
Return the skillet to high heat and add the stock. Pour any duck juices that collect on the plate into the skillet. Bring to a boil and scrape the sides and bottom with a wooden spoon to loosen any stuck bits of duck or apple. Cook on a rapid simmer for 2 to 3 minutes, until thick. Add to the bread salad and toss to mix well. Season to taste with salt and pepper.
Cut the duck breasts into thin slices. Place a spoonful of the bread salad on the center of the plate. Arrange amount of the reduced wine around the edge of the plate, and serve.
Enjoy with Cakebread Cellars Benchland Select or Pinot Noir, or a medium- to full-bodied red wine with lots of ripe red fruit flavors. Duck is rich yet elegant, so it tastes great with a wide range of wines.
Source: The Cakebread Cellars Napa Valley Cookbook
Wine and Recipes to Celebrate Every Season's Harvest by Jack & Dolores Cakebread
more recipes from this book:
- Cabernet Truffles
- Sweet Corn, Chanterelle, and Wild Rice Soup with Garlic Croutons