Pastry Cornucopia
This centerpiece will surely create some table talk and compliments, and it just may become a family tradition.
Yield: 12 servings
4 cups Gold Medal® all-purpose flour
2 teaspoons salt
1 1/2 cups shortening
2 eggs
1/3 cup cold water
10 to 12 twelve-inch squares aluminum foil
1 egg
2 teaspoons cold water
Milk
1 to 2 tablespoons sugar
Mix flour and salt thoroughly in large bowl. Cut in shortening, using pastry blender or crisscrossing 2 knives. Beat 2 eggs and 1/3 cup cold water; add to flour mixture. Mix with fork until flour is moistened (1 to 2 tablespoons water can be added if necessary). Gather pastry into a ball; divide into fourths. Keep pastry wrapped until ready to use.
To make mold for cornucopia, loosely crumple squares of aluminum foil into balls. Stack balls in center of 20-inch sheet of foil; bring ends up, wrapping tightly. Press into shape of cornucopia, about 10 inches long and 5 inches high at opening. Spray mold generously with cooking spray.
To make base of cornucopia, roll one-fourth of pastry on floured cloth-covered surface with floured rolling pin into triangle shape about 1 inch larger than base of foil mold. Transfer to ungreased cookie sheet. Place foil mold on pastry base.
To make cornucopia, roll one-fourth of pastry into an oval, about 15x10 inches. Cut pastry oval lengthwise into 1-inch strips, using scalloped pastry cutter. Mix 1 egg and 2 teaspoons cold water. Brush 1 short strip with egg mixture; place strip, egg mixture side out, around tip of mold, forming a point. Starting with shorter strips, brush one at a time with egg mixture and carefully drape over mold, egg mixture side out, overlapping preceding strip 1/4 inch and allowing excess pastry to lie on base. Roll and cut additional one-fourth of pastry into oval, 15x10 inches. Using longer strips, continue until mold is completely covered (do not trim any excess pastry at this point). Do not cover opening with pastry. Be sure all strips are pressed securely onto preceding strips and that there are no gaps.
Divide remaining one-fourth pastry into 3 parts. Divide 1 part in half; roll 1 half into rope, about 24 inches long and 1/4 inch thick. Flatten rope with rolling pin to about 1/2-inch-wide strip. Cut strip lengthwise in half, using sharp knife. Twist halves together gently and loosely into braid. Brush outer edge of opening of cornucopia with egg mixture. Place braid around opening; pinch ends to secure. Brush braid with egg mixture. Make additional braid with remaining half of 1 part dough. Brush egg mixture around base of cornucopia over the overhanging strips. Place braid around base, pinching ends to secure. Trim any excess pastry showing under braid; discard trimmings. Brush braid with egg mixture.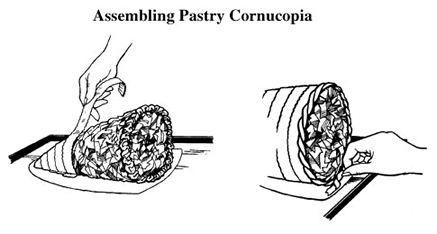 To decorate cornucopia, shape 1 part of remaining pastry into vines and grapes; roll and cut remaining 1 part pastry into leaves. Attach to cornucopia, using egg mixture. Brush entire cornucopia with egg mixture. Cornucopia can be covered and refrigerated at this point up to 24 hours, or wrapped carefully and tightly and frozen up to 1 month.
Heat oven to 425 F. Bake about 10 minutes or until set; remove from oven. Brush with milk; sprinkle generously with sugar. Reduce oven temperature to 350 F. Bake 20 to 25 minutes longer or until golden brown. (If necessary, cover tip and front edge with aluminum foil to prevent excessive browning.) Cool on cookie sheet 5 minutes; loosen with large metal spatula and carefully slide onto wire rack. Cool at least 40 minutes. Carefully remove foil from cornucopia. Cover loosely and store in cool, dry place (do not refrigerate).
Fill this melt-in-your-mouth pastry with holiday goodies, cookies, or candy.
Since it's made from natural ingredients, enjoy this pastry cornucopia for this holiday only. It's so much fun that you'll want to make it again next year bigger and better than ever.
Cornucopia has two meanings: "A cone-shaped container overflowing with fruit, flowers and grains" and "abundant." You decide which best describes this holiday pastry!
Source: Gold Medal Flour, a Reg. TM of General Mills, Inc.
Next: more Thanksgiving Recipes & Ideas