Light Wheat Bread - bread machine
Yield: 1 pound loaf (8 slices).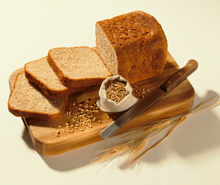 3/4 cup Water (70 to 80 F)
1 tablespoon Butter or margarine
3/4 teaspoon Salt
1 1/3 cups Bread flour
2/3 cup Whole wheat flour
4 teaspoons Nonfat dry milk
4 teaspoons Sugar
1 teaspoon Fleischmann's Bread Machine Yeast
Measure all ingredients into bread machine pan in the order suggested by manufacturer.
Process on basic/white bread cycle; use medium/normal crust color setting.
Remove bread from pan; cool on wire rack.
Source: Fleischmann's Yeast, a division of Burns Philp Food, Inc.