Decadent Pecan Pie - Flaky Pastry
Make this traditional holiday pie anytime with this easy recipe. Itís sweet, crunchy pecans in a light flaky crust just like you remember.
Yield: 1 pie, 8 servings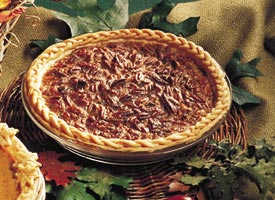 Best Flaky Pastry:
1 cup Gold Medal all-purpose flour
1/4 teaspoon salt
1/3 cup plus 1 tablespoon shortening or 1/3 cup lard
2 to 3 tablespoons cold water
Filling:
2/3 cup sugar
1/3 cup butter or margarine, melted
1 cup corn syrup
1/2 teaspoon salt
3 eggs
1 cup pecan halves or broken pecans
Mix flour and salt in medium bowl. Cut in shortening, using pastry blender or crisscrossing 2 knives, until particles are size of small peas. Sprinkle with cold water, 1 tablespoon at a time, tossing with fork until all flour is moistened and pastry almost leaves side of bowl (1 to 2 teaspoons more water can be added if necessary).
Gather pastry into a ball. Shape into flattened round on lightly floured surface. Roll pastry, using floured rolling pin, into circle 2 inches larger than upside-down pie plate, 9 x 1-1/4 inches. Fold pastry into fourths; place in pie plate. Unfold and ease into plate, pressing firmly against bottom and side.
Trim overhanging edge of pastry 1 inch from rim of pie plate. Fold and roll pastry under, even with plate; flute as desired.
Heat oven to 375 F.
Beat sugar, butter, corn syrup, salt and eggs in medium bowl with wire whisk or hand beater until well blended. Stir in pecans. Pour into pastry-lined pie plate.
Bake 40 to 50 minutes or until center is set; cool.
Source: Gold Medal Flour, a Reg. TM of General Mills, Inc.
Next:
- Thanksgiving Recipes & Ideas
- Pie Recipes
- Pie Books