Bûche de Noël
Make this Yule log cake a family tradition during the holidays. It is a bit involved, but the rave reviews will be worth it!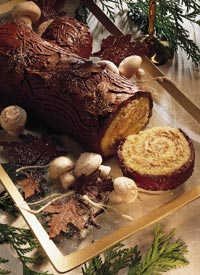 Yield: 10 servings
3 eggs
1 cup sugar
1/3 cup water
1 teaspoon vanilla
3/4 cup Gold Medal all-purpose flour
1 teaspoon baking powder
1/4 teaspoon salt

1 cup whipping (heavy) cream
2 tablespoons sugar
1 1/2 teaspoons freeze-dried or powdered instant coffee (dry)

Cocoa Frosting:
1/3 cup baking cocoa
1/3 cup butter or margarine, softened
2 cups powdered sugar
1 1/2 teaspoons vanilla
1 to 2 tablespoons hot water
Chopped pistachio nuts or red and green candied cherries, if desired
Heat oven to 375 F. Line jelly roll pan, 15 1/2 x 10 1/2 inch, with aluminum foil or waxed paper; grease.
Beat eggs in small bowl with electric mixer on high speed about 5 minutes or until very thick and lemon colored. Pour eggs into large bowl; gradually beat in 1 cup sugar. Beat in water and vanilla on low speed. Gradually add flour, baking powder and salt, beating just until batter is smooth. Pour into pan, spreading batter to corners.
Bake 12 to 15 minutes or until toothpick inserted in center comes out clean. Immediately loosen cake from edges of pan and turn upside down onto towel generously sprinkled with powdered sugar. Carefully remove foil. Trim off stiff edges of cake if necessary. While hot, carefully roll cake and towel from narrow end. Cool on wire rack at least 30 minutes.
Beat whipping cream, 2 tablespoons sugar and the coffee in chilled bowl until stiff. Unroll cake and remove towel. Spread whipped cream mixture over cake. Roll up cake.
For Cocoa Frosting mix cocoa and butter thoroughly in medium bowl. Beat in sugar with electric mixer on low speed. Stir in vanilla and hot water. Beat until frosting is smooth and spreadable.
For tree stump, cut off a 2-inch diagonal slice from one end of cake. Attach stump to one side using 1 tablespoon Cocoa Frosting. Frost log with Cocoa Frosting. Make strokes in frosting to resemble bark, using a decorator's comb or tines of fork. Sprinkle with pistachio nuts. Store in refrigerator.
The chopped pistachio nuts give your "yulelog" a natural moss-covered appearance. Other edible natural-looking adornments include chocolate leaves, meringue mushrooms, mint gumdrop leaves and red cinnamon candies.
Source: Gold Medal Flour, a Reg. TM of General Mills, Inc.
Similar Recipe: Yule Log - Buche de Noel with Marzipan Mushrooms
Next:
- Christmas Cookie Recipes & Cake Ideas
- Gift Jar Recipes
- Pie Recipes