Chocolate Biscotti
Although in Italy, biscotti is the term for cookie, here is a recipe that has become synonymous with the name biscotti. They are a wonderful dipping cookie or accompaniment to ice cream or sorbet.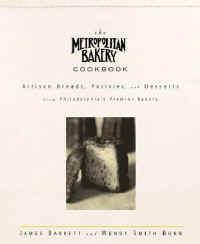 Yield: 120 biscotti
3 cups plus 2 tablespoons all-purpose flour
1/2 cup unsweetened cocoa
2 1/4 teaspoons baking powder
3/4 cup (1 1/2 sticks) unsalted butter
1 3/4 cups granulated sugar
4 large eggs
Grated zest of 1 lemon
2 tablespoons coffee liqueur
1 cup bittersweet chocolate chunks
1 teaspoon kosher salt
1 cup whole blanched almonds, toasted
Preheat the oven to 325 degrees. Line 2 large baking sheets with parchment paper (or use nonstick baking sheets). In a large bowl, sift together the flour, cocoa, baking powder, and salt. In a large bowl of an electric mixer, beat the butter and 1 1/4 cups sugar until light and fluffy. Beat in the eggs, one at a time, then add the lemon zest and liqueur. At low speed, add the flour mixture just until combined. Stir in the chocolate chunks and almonds.
Sprinkle a work surface with the remaining 1/2 cup sugar. Divide the dough in half. Roll each piece in the sugar into a 15-inch log. Arrange the logs, 3 inches apart, on 1 prepared baking sheet. Bake for 30 minutes or until center of each log is firm when gently pressed with a fingertip. Cool logs on the baking sheet 1 hour or overnight.
Preheat the oven to 300 degrees. Transfer the logs to a large cutting board. With a serrated knife, slice each log crosswise into 1/4-inch thick slices. Transfer the slices, cut-side down, to the baking sheets. Bake 12 to 15 minutes until crisp. Transfer the biscotti to wire racks and cool completely.
Source: The Metropolitan Bakery Cookbook by James Barrett and Wendy Smith Born
Artisan Breads, Pastries, and Desserts from Philadelphia's Premier Bakery
Buy the Metropolitan Bakery Cookbook in the US - UK - DE
more recipes from this cookbook:
- Pumpkin Muffins
- Cannelle