Taco Pizza
Yield: 1 (12-inch) pizza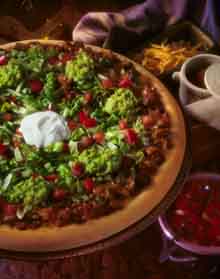 Dough
2-1 / 4 to 2-1 / 2 cups all-purpose flour
1 / 2 cup cornmeal
1 envelope (1/4 ounce or 2 1/4 tsp) Fleischmann's RapidRise Yeast
1 teaspoon salt
1 cup very warm water (120 to 130 F)
3 tablespoons vegetable oil
Taco Topping:
1 pound ground beef
2 teaspoons chili powder
1 / 4 teaspoon salt
1 cup prepared mild or medium chunky salsa
1 (2-1/4-ounce) can sliced ripe olives, drained
1 cup shredded Cheddar cheese
Thinly sliced lettuce, chopped tomatoes, additional shredded Cheddar cheese, taco sauce, sour cream, and/or guacamole (optional)
In a large bowl, combine 3/4 cup flour, cornmeal, undissolved yeast, and salt. Gradually add water and vegetable oil to flour mixture. Beat 2 minutes at medium speed of electric mixer, scraping bowl occasionally. Stir in enough remaining flour to make a soft dough. Knead on lightly floured surface until smooth and elastic, about 8 to 10 minutes. Cover; let rest 10 minutes.
Roll dough to 13-inch circle. Transfer to greased 12-inch pizza pan; form 3/4-inch high rim along edge. Randomly prick surface of dough with fork; let rest 10 minutes. Par bake at 425 F for 7 minutes. Remove from oven.
Taco Topping:
In large skillet, brown ground beef over medium-high heat 4 to 6 minutes or until no longer pink, breaking into 3/4 –inch crumbles. Pour off drippings. Season beef with chili powder and salt. Stir in salsa and olives.
Spoon Taco Topping onto dough to within 1 / 2-inch of edge; top with cheese.
Bake at 425 F for 20 minutes or until crust is golden. Serve warm with additional topping, if desired.
Nutrition Information Per Serving: Serving size : 1 / 12 of recipe (5 ounces):
Calories : 260, Total fat : 11 g, Saturated fat : 4 g, Cholesterol : 25 mg, Sodium : 530 mg, Carbohydrates : 25 g, Dietary fiber : 2 g, Sugars : 1 g, Protein : 14 g
Source: Fleischmann's Yeast, a division of Burns Philp Food, Inc.