Herbed Sugar Snap Peas with Goat Cheese
Sugar snap peas are one of nature's finest treasures. As the name implies, they are naturally sweet, and their texture is crunchy. Because of that combination, they meld effortlessly with the other ingredients in this dish. The "snap" counters the creamy goat cheese and the earthy tarragon contrasts perfectly with the vegetable's natural sugars.
Snap peas are available in the spring and fall and are especially good when they are just picked. If you can't find them, this dish works equally well and looks just as beautiful with fresh green beans. Simply cook the green beans about a minute or two longer than the snap peas.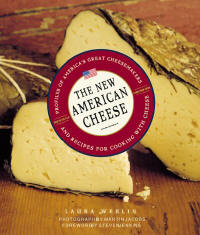 Yield: 8 to 10 servings
2 pounds fresh sugar snap peas, stems and strings removed
1/2 cup plus 2 tablespoons olive oil
3 medium shallots, finely chopped
3 tablespoons chopped fresh tarragon leaves, plus additional sprigs for garnish
Salt and freshly ground pepper
12 ounces cherry tomatoes (about 1 1/2 cartons), cut in half lengthwise
1/2 pound fresh goat cheese, such as Redwood Hill, cut into small pieces (if the goat cheese is particularly creamy, spoon it onto the vegetables; or use fromage blanc)
Bring a large pot of salted water to a boil. Add the peas and cook until crisp-tender, 2 to 3 minutes. Drain, and run under cold water. Set aside.
In a large sauté pan, heat the 2 tablespoons olive oil over medium-low heat. Add the shallots and cook, stirring occasionally, until they are limp but not brown, 5 to 7 minutes. Add the remaining 1/2 cup olive oil and heat for 1 minute. Turn off the heat and add the tarragon and peas, stirring to coat the peas with the oil, shallots and tarragon. Add plenty of salt and pepper. Let cool to room temperature, about 15 minutes.
Arrange the pea mixture, tomatoes, and cheese on a serving plate; garnish with additional tarragon. Do not mix.
Source: The New American Cheese by Laura Werlin
Profiles of America's Greatest Cheese makers and Recipes for Cooking with Cheese.
Buy The New American Cheese book in the US - DE - UK
More recipes from "The New American Cheese:
- Goat Cheese, Apricot, and Sage-Stuffed Chicken Breasts
- Chili-Pecan Biscotti with Dry Jack Cheese
- Quarky Chocolate Cake
- Teleme, Squash, and Onion Galette
- Melon and Prosciutto with Goat Cheese and Mint
- "New" Old-Fashioned Grilled Cheese Sandwich
- Iceberg Lettuce with Creamy Blue Cheese Dressing