"New" Old-Fashioned Grilled Cheese Sandwich
Few cheese dishes come close to the comfort level offered by a grilled cheese sandwich. The buttery bread and the oozing cheese spill out ease and warmth. While grilled cheese sandwiches are hardly challenging to make, the right proportion of ingredients is key to the perfect sandwich. Ultra-thin-sliced hearty bread, butter and the perfect amount of grated cheese is all it takes. This creates a crispy exterior for the soft melted cheese.
Although grilled cheese sandwiches are traditionally made with cheddar or (heaven forbid!) processed American cheese, almost any type of good melting cheese works perfectly. Use what you like. To make a more up-to-date version, try placing a few basil leaves in the center. It's a wonderful fresh surprise.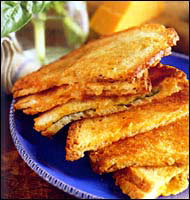 Yield: 4 servings
1/2 pound Cougar Gold cheese, coarsely grated (or use cheddar or Gouda)
4 large 1/8-inch-thick slices country, pain levain, or other hearty bread, cut in half
12 fresh basil leaves (optional)
3 tablespoons butter
Sprinkle the grated cheese over 4 slices of the bread. Top with the basil leaves, if using. Cover with the remaining 4 bread slices.
In a large sauté pan, melt the butter over medium-high heat. Place the sandwiches in the pan and cover. Cook until the sandwich is golden brown on the underside, about 3 minutes. Turn with a spatula and cook the other side until golden brown and the cheese has melted, about 2 more minutes.
Serve immediately.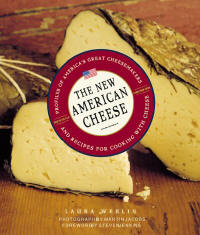 Source: The New American Cheese by Laura Werlin
Profiles of America's Greatest Cheese makers and Recipes for Cooking with Cheese.
Buy The New American Cheese book in the US - UK
More recipes from "The New American Cheese:
- Goat Cheese, Apricot, and Sage-Stuffed Chicken Breasts
- Chili-Pecan Biscotti with Dry Jack Cheese
- Quarky Chocolate Cake
- Herbed Sugar Snap Peas with Goat Cheese
- Teleme, Squash, and Onion Galette
- Melon and Prosciutto with Goat Cheese and Mint
- Iceberg Lettuce with Creamy Blue Cheese Dressing