Banana Bread
Yield: serves 12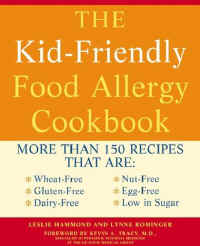 3 ripe bananas
1 cup (200 grams) sugar *
1/2 cup (125 grams) butter **
3 eggs ***
1 teaspoon vanilla
1/4 teaspoon salt
1 teaspoon baking soda
1/4 teaspoon cinnamon
2 cups (250 grams) rice flour
1/2 cup (60 grams) chopped pecans ****
In a food processor, blend bananas, sugar, butter, eggs, and vanilla. Add remaining ingredients and process until smooth.
Pour into desired baking pans and bake at 350 degrees (180 degrees C) until firm:
Mini muffins: 6 minutes
Regular tins: 10–15 minutes
Mini loaves: 15 minutes
Bread loaf: about 60 minutes
*Sugar substitute: Omit sugar or add 1/4 cup (85 grams) honey or sugar substitute.
**Dairy substitute: Use margarine.
***Egg substitute: Omit eggs and add 1 extra banana.
****Nut substitute: Omit pecans if a nut allergy exists.
Source: The Kid Friendly Food Allergy Cookbook by Leslie Hammond with Lynne Rominger
More Than 150 Recipes That Are Wheat-Free, Gluten-Free, Nut-Free, Egg-Free, and Low in Sugar
Buy The Kid Friendly Food Allergy Cookbook in the US - EU
More recipes from "The Kid Friendly Food Allergy Cookbook":
- Chewy Granola Bars
- Creamy Potato Salad
- Tuna-Fish Salad