Grilled Butterflied Leg of Lamb with Garlic and Rosemary
Have your butcher bone and butterfly a leg of lamb. A butterflied leg is usually of uneven thickness, but don't let this bother you. When it is grilled, there will be rare, medium-rare, and medium-well sections to satisfy every palate.
Yield: 8 servings
1 leg of lamb, 6 to 7 pounds, boned and butterflied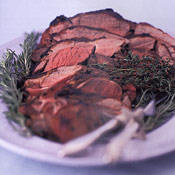 For Marinade:
3/4 cup olive oil
1/2 cup red wine vinegar
1/4 cup balsamic vinegar
1/3 cup minced fresh rosemary
1/4 cup minced fresh thyme
2 tablespoons soy sauce
2 teaspoons Worcestershire sauce
2 teaspoons anchovy paste
7 or 8 large cloves garlic, crushed
Trim off any excess fat from the lamb and place it in a 9-by-13-inch pan. Whisk together all the marinade ingredients in a bowl. Scoop out and reserve 1/4 cup of the marinade, and pour the remainder over the lamb. Massage into the meat. Cover and refrigerate for 12 to 24 hours.
Remove the meat from the refrigerator and allow to come to room temperature. Prepare a fire in a charcoal grill. The coals are ready when they are an ashen gray with a glowing red center. This will take 30 to 40 minutes. If using a gas grill, preheat to medium heat.
Place the lamb on the grill rack and cook, turning once and basting frequently with the reserved 1/4 cup marinade, for 15 to 18 minutes on each side for medium-rare.
Transfer to a platter, season with salt and pepper to taste, and tent with aluminum foil. Let rest for 10 minutes before slicing, then place on a cutting board and slice thinly. Arrange attractively on the platter and pour over any accumulated juices. Serve immediately.
Nutrition Facts per Serving (1/8): Calories: 525, Fat: 24g, Carbohydrates: 2g, Cholesterol: 225mg, Sodium: 415mg, Protein: 70g, Fiber: 0g, % Cal. from Fat: 41%, % Cal. from Carbs: 2%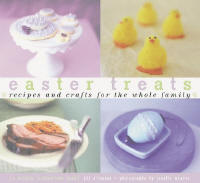 Source: Easter Treats by Jill O'Connor
Recipes and crafts for the whole family
Buy the Easter Treats book in the US - DE - UK
More Recipes from Easter Treats:
- Easter Bonnet Shortbread Cookies
- Easter Basket Cupcakes
- Hot Cross Buns with Dried Sour Cherries and Pistachios
Next: Easter Cake Decorating Supplies - more Easter Recipes & Ideas