Hot Cross Buns with Dried Sour Cherries and Pistachios
Hot cross buns were traditionally prepared by English housewives on Good Friday. To ward off evil spirits, the buns were marked with a cross made from dough before baking or with icing after baking. Here the recipe is updated with dried sour cherries and pistachios.
Yield: 16 buns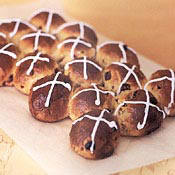 For Buns:
6 tablespoons granulated sugar
1 cup milk
1/4 cup (1/2 stick) unsalted butter
1/2 teaspoon ground cinnamon
1/4 teaspoon ground nutmeg
1/8 teaspoon ground cloves
Grated zest of one lemon
1/4 cup warm water
2 packages (1/2 ounce or 4 1/2 tsp) active dry yeast
1 whole egg plus 2 egg yolks
3 1/3 cups all-purpose unbleached flour, plus more for kneading
1 teaspoon salt
1 cup dried sour cherries
1/2 cup chopped pistachios
Melted unsalted butter for pan and brushing
1 egg yolk mixed with 1 tablespoon milk (glaze)
For Icing:
1 cup confectioners' (powdered) sugar
1 to 2 teaspoons milk, heated
Buns:
Combine 5 tablespoons of the sugar, the milk, butter, cinnamon, nutmeg, cloves, and lemon zest in a small saucepan over medium heat. Stir until the milk is hot and the butter is melted. Remove from the heat and pour into a large bowl. Let cool to room temperature. Meanwhile, combine the warm water with the remaining 1 tablespoon sugar in a small bowl. Sprinkle the yeast over the water and let stand until frothy, about 10 minutes. Whisk the whole egg, the egg yolks, and the yeast into the cooled milk.
In another bowl, stir together the 3 1/3 cups flour and the salt. Add the yeast mixture, stirring until a sticky dough forms. Stir in the sour cherries and pistachios. Turn the dough out onto a lightly floured board or countertop and knead until smooth and elastic, 10 to 15 minutes. If the dough is too sticky, sprinkle with a little more flour.
Transfer to a lightly buttered bowl and brush the surface with a little melted butter. Cover loosely with plastic wrap and let rise in a warm, draft-free place until doubled in bulk, about 2 hours. Punch down and knead briefly. Re-cover and let rise a second time, about 30 minutes. Punch the dough down again and knead briefly. Divide into quarters and divide each quarter into 4 equal pieces. Roll each piece of dough into a smooth ball and place in a lightly buttered 9-by-13-inch pan. Cover loosely with plastic wrap and let rise a final time until doubled, about 30 minutes.
Preheat the oven to 375 degrees. Brush the buns with the egg glaze. Bake until golden brown and the buns sound hollow when rapped on the bottom, 20 to 25 minutes. Let cool completely on a wire rack.
Icing:
Combine the confectioners' sugar and 1 teaspoon warm milk in a bowl. Stir until smooth, adding another 1 teaspoon milk if needed to achieve a smooth consistency. Spoon into a pastry bag or a lock-top sandwich bag, seal, and snip off the tip of one corner. Squeeze the icing from the bag, piping a cross over each cooled bun. Serve the buns at room temperature.
Nutrition Facts per Serving (1/16): Calories: 226, Fat: 7g, Carbohydrates: 35g, Cholesterol: 62mg, Sodium: 161mg, Protein: 6g, Fiber: 1g, % Cal. from Fat: 28%, % Cal. from Carbs: 62%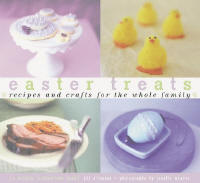 Source: Easter Treats by Jill O'Connor
Recipes and crafts for the whole family
Buy the Easter Treats book in the US - UK
More Recipes from Easter Treats:
- Easter Bonnet Shortbread Cookies
- Grilled Butterflied Leg of Lamb with Garlic and Rosemary
- Easter Basket Cupcakes