Gluten-Free Pizza
Yield: 1 (12-inch) pizza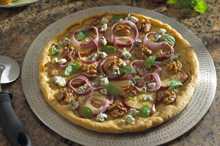 Dough
2/3 cup water
1 tablespoon olive oil
1 teaspoon cider vinegar
1/2 teaspoon honey
1/2 teaspoon salt
1 teaspoon unflavored gelatin
1 teaspoon crushed dried rosemary
3/4 cup brown rice flour
1/2 cup tapioca flour
2 teaspoons xanthan gum
2 teaspoons Fleischmann's Bread Machine Yeast

2 tablespoons olive oil (for brushing pan)

Topping
1 medium pear, thinly sliced, about 1/4- inch thickness
1 small red onion, thinly cut into rings
2 tablespoons olive oil
1 tablespoon balsamic vinegar
2 tablespoons chopped walnuts
1 tablespoon blue cheese, crumbled (optional)
Fresh basil leaves
Add dough ingredients to bread machine pan in the order suggested by manufacturer. Select dough/manual cycle.
Or, combine ingredients, as usual, beat 2 minutes at medium speed of electric mixer and knead on lightly floured surface until smooth and elastic, about 4 to 6 minutes. Cover; let rest 10 minutes.
Meanwhile prepare topping:
In a medium skillet over medium-high heat, heat olive oil. Add pear and onions. Cook 5 minutes, stirring occasionally. Add balsamic vinegar. Remove from heat; drain well. Set aside.
When cycle is complete, remove dough to a surface heavily sprinkled with rice flour. Pat dough onto a 12-inch pizza pan brushed with olive oil, making edges thicker to hold the toppings.
Pre-bake at 425 F for 15 minutes. Remove from oven. Top with pear and onions; sprinkle with walnuts and cheese, if desired. Bake an additional 5 to 10 minutes or until evenly browned. Remove from pan; top with basil leaves. Serve warm.
Nutrition Information Per Serving 1 slice 1/12 of recipe (1.9 ounces)
Calories 120, Total fat 7 g, Saturated fat 1 g, Cholesterol 0 mg, Sodium 110 mg, Carbohydrates 15 g, Dietary fiber 1 g, Sugars 2 g; Protein 1 g
Source: Fleischmann's Yeast, a division of Burns Philp Food, Inc.