Portuguese Pizza Nachos
Fast and fabulous — and with only five ingredients! Linguiça, a Portuguese staple, is a mildly spicy smoked sausage made with pork shoulder, paprika, garlic, wine vinegar, and herbs. Look for it in supermarket meat sections, with a label that indicates "Fully Cooked." In California, I buy Silva brand. Slice it thin for a nacho topping, and use any leftover linguiça for soups, stews, potatoes, or eggs. The name is a variation of lingua or "tongue," a reference to its long, slender shape (it does not contain tongue as an ingredient).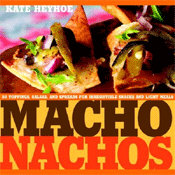 Yield: one 12 x 18-inch tray or equivalent
1/4 cup coarsely chopped fresh cilantro
1/2 cup chopped marinated artichoke hearts
4 to 5 ounces corn tortilla chips
8 to 10 ounces shredded Mediterranean-spiced Sonoma Jack (about 3 cups)
6 to 8 ounces fully cooked linguiça sausage, thinly sliced
Preheat the oven to 475 degrees, or preheat the broiler, with the rack positioned about 7 inches from the top of the oven or the heat source.
Arrange the chips on a 12 x 18-inch baking sheet or oven­proof platter. Sprinkle on the cheese, then top with the linguiça. Bake the nachos for 5 to 7 minutes, or broil, until the cheese is melted and bubbly.
Combine the cilantro and artichoke hearts in a small bowl. Spoon the cilantro-artichoke mixture on the nachos before serving.
Note: You can substitute pepperoni for linguiça in this recipe, but it's not the same. Linguiça has a much more complex, robust flavor and is less salty. Andouille and Polish sausages are other alternatives. The Mediterranean-spiced Sonoma Jack cheese adds its own distinctive layer of flavor, but you can also use regular Monterey Jack, pepper Jack, or your other favorite cheese here.
Source: Macho Nachos by Kate Heyhoe Clarkson Potter
50 Toppings, Salsas, and Spreads for Irresistible Snacks and Light Meals
Buy the Macho Nachos book in the US - DE - UK
More Recipes from Macho Nachos:
- Smoked Chicken, Roasted Peppers and Asiago Nachos
- Sloppy Jacks