Sloppy Jacks
Sloppy Joes may seem old-fashioned, but they also represent comforting home cooking. In fact, these messy meals-on-a-bun are a kitchen favorite with the chef and staff at the sophisticated New York restaurant Chanterelle (a welcome break from foie gras and caviar, no doubt). In this version, Sloppy Joes become Sloppy Jacks by covering a corn chip instead of a bun under a cozy layer of Monterey Jack cheese.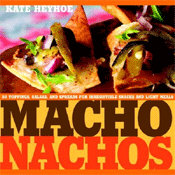 Yield: one 12 x 18-inch tray or equivalent
For the Sloppy Joes:
2 teaspoons canola or vegetable oil
1 cup diced onion
2 cloves of garlic, minced
1 teaspoon ground red chile
1 pound lean ground beef (95% lean)
3/4 cup ketchup
1 teaspoon red wine vinegar
2 teaspoons minced parsley (optional)
Salt and freshly ground black pepper to taste
For the Nachos:
4 to 5 ounces corn tortilla chips
8 ounces shredded Monterey Jack (about 3 cups)
1/2 cup finely diced green bell pepper
1/4 cup finely diced red or green onion
Prepare the Sloppy Joe mixture:
Warm the oil in a large skillet over medium-high heat. Add the onion and cook until translucent, stirring occasionally. Stir in the garlic and ground chile and cook another minute, until the garlic softens. Dump in the ground beef and cook until crumbly and no longer pink, breaking up large chunks as it cooks. Stir in the ketchup and 1/2 cup water. Reduce the heat and simmer for about 15 minutes, stirring occasionally. The mixture should be moist and glazed, neither dry nor liquidy. Stir in the vinegar, parsley, and salt and pepper. (The mixture may be made 2 days in advance; reheat before using.)
Preheat the oven to 475 degrees, or preheat the broiler, with the rack 7 inches from the top of the oven or the heat source.
Assemble the nachos:
Arrange the chips on a 12 x 18-inch baking sheet or oven­proof platter. Sprinkle on half the cheese, then spoon on dollops of the meat mixture. Top with the remaining cheese, bell pepper, and onion.
Bake the nachos for 5 to 7 minutes, or broil, until the cheese melts.
Source: Macho Nachos by Kate Heyhoe Clarkson Potter
50 Toppings, Salsas, and Spreads for Irresistible Snacks and Light Meals
Buy the Macho Nachos book in the US - DE - UK
More Recipes from Macho Nachos:
- Smoked Chicken, Roasted Peppers and Asiago Nachos
- Portuguese Pizza Nachos