Fig & Anise Ice Cream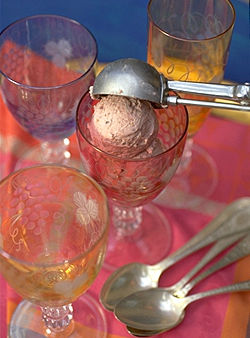 Yield: 6 cups.
1-1/2 lb. ripe figs, stems removed, unpeeled
note: leaving on the fig skins makes for an even more intense flavor
1/3 cup plus 2 Tbs. sugar
2 cups cream or half-and-half (half cream, half milk)
1/3 cup honey
1 tsp. aniseed
3 large eggs, separated (Egg Safety)
1 cup creme fraiche
You need an ice cream maker.
Puree the figs in a food processor or blender. Transfer the puree to a 10-inch skillet with 1/3 cup of the sugar. Cook over medium heat, stirring often to prevent sticking, until the figs have thickened into a jam, about 30 min.
In a saucepan, heat the cream, honey, and aniseed over medium heat. Gently bring to a boil, stirring to dissolve the honey. Whisk a little of the hot cream into the egg yolks, and then whisk them back into the pan. Cook over low heat, stirring constantly, until the mixture thickens and coats the spoon. Immediately transfer to a bowl. Stir in the fig purée and creme fraiche and chill thoroughly. Whisk the egg whites until foamy; add the remaining 2 Tbs. sugar and continue beating until soft peaks form. Fold the egg whites into the cooled fig purée, and then freeze in an ice-cream maker following the manufacturer's instructions.
Source: Fine Cooking Magazine