Spice Up Thanksgiving with Swinging Side Dishes
Already planning your holiday feasts? This year don't settle for the usual side dishes. Surround that regal turkey or kingly roast with swingin' vegetables that almost dance with life, lending new excitement to the meal.
Take the traditional creamed onions, for example. Kick over the traces and serve Outrageous Onions instead. These are so easy to make. Just peel one medium onion per serving, cut them in half and bake in a sprightly brew of olive oil, brown sugar, soy sauce, balsamic vinegar and Tabasco brand Pepper Sauce . They emerge mahogany brown and tender with fabulous flavor that beautifully complements either turkey or beef.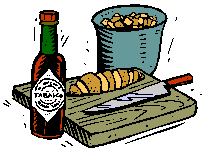 Potatoes are loved by everyone - no matter how you mash 'em, hash 'em, bake 'em, fry 'em or scallop 'em. The average American eats 120 pounds of potatoes a year - one potato for every day. With little time and creativity, savvy cooks can take advantage of the natural goodness of potatoes while enhancing their taste. For instance, mash in a little melted butter or margarine thinned with lemon juice, plain yogurt with chopped chives, or chicken broth with tangy herbs - all sparked with a few drops of Tabasco brand Pepper Sauce.

The vegetables may be traditional, but their taste is contemporary, so lively and delicious the rest of the holiday meal may pale in comparison.

Outrageous Onions

6 medium yellow onions
1/2 cup water
2 tablespoons olive oil
1 tablespoon dark brown sugar
1 tablespoon soy sauce
1 tablespoon balsamic vinegar
1 teaspoon Tabasco brand Pepper Sauce
Parsley sprig (optional)

Preheat oven to 400ºF. Peel onions and cut each lengthwise in half, keeping root end intact. Combine water, olive oil, brown sugar, soy sauce, balsamic vinegar and Tabasco® Sauce in 12x8-inch baking dish. Place onion halves cut-side down in mixture. Cover with foil. Bake 30 minutes, basting occasionally. Remove foil; cook 10 minutes longer or until onions are tender. Garnish with parsley, if desired.

Makes 6 servings.

PastryWiz Thanksgiving Links

Thanksgiving Shopping

TABASCO® and the TABASCO® bottle design are registered trademarks exclusively of McIlhenny Co., Avery Island, LA 70513