Turkey Curry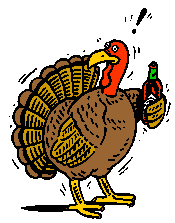 3 tablespoons butter or margarine
1 large carrot, peeled and diced
1 medium onion, cut in half and sliced
1 large clove garlic, crushed
1 tablespoon curry powder
1/2 teaspoon ground ginger
1 tablespoon flour
1 13 3/4-ounce can chicken broth*
2 cups chopped cooked turkey
1/2 cup water
1/3 cup raisins
1 1/2 teaspoons Tabasco brand Pepper Sauce
1/4 teaspoon salt
1 tablespoon fresh chopped parsley
2 cups cooked long-grain rice
In 3-quart saucepan, over medium heat, melt butter or margarine. Add carrot, onion and garlic; cook 10 minutes until vegetables are tender, stirring occasionally. Stir in curry powder, ginger and flour; cook 1 minute.
Add broth, cooked turkey, water, raisins, Tabasco® Sauce and salt. Over high heat, heat to boiling. Reduce heat to low; cover and simmer 10 minutes, stirring occasionally.
Stir in parsley. Serve mixture over cooked rice.
Makes 4 servings.
* Or 2 cups turkey broth, obtained by simmering leftover carcass in water to cover, with herbs and chopped carrot, onion and celery rib until bones fall apart, about 2-3 hours.
Nutritional information per serving: 399 Calories, 27 g protein, 12 g fat, 46 g carbohydrates, 1006 mg sodium, 92 mg cholesterol
PastryWiz Thanksgiving Links
Thanksgiving Shopping Links
Copyright © PastryWiz TM
TABASCO® and the TABASCO® bottle design are registered trademarks exclusively of McIlhenny Co., Avery Island, LA 70513