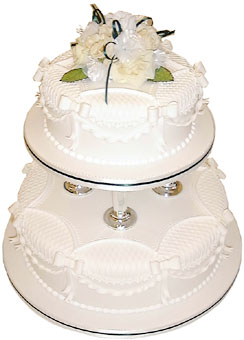 The Wedding cake is called Victoriana, as it is a modern take on the traditional version.

You will need 2 covered cakes (instructions), that are ready for decorating. We are using a 10" and a 6" round cake.

Select a suitable cake top decoration. We made a silk flower posy top, but you may use any other cake topper, that matches the cake and the theme of your wedding.

We are using dowels and pillars to assemble the tiers, but you can use any other cake stand that you like.