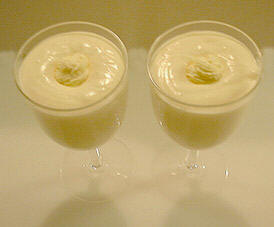 Soufflé
- French, from soufflé, past participle of souffler to blow, puff up.
- a dish that is made from a sauce, egg yolks, beaten egg whites, and a flavoring or purée.

Mousse
- a light spongy food usually containing cream or gelatin
- a molded chilled dessert made with sweetened and flavored whipped cream or egg whites and gelatin (chocolate mousse)

Lemon
- an acid fruit that is botanically a many-seeded pale yellow oblong berry and is produced by a small thorny tree.