Sweet Potato Pie - Yams Pie
Yield: 1 Pie - 8 servings
2 1/2 cups cooked mashed Yams or Squash puree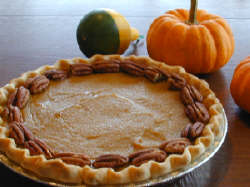 4 tb Butter
2 Egg
1 c Sugar
1/2 ts Cinnamon
1/2 ts Ground ginger
1 ts Nutmeg
1 tb Vanilla
a pinch of Salt
one 9-inch unbaked open pie shell - recipe
1/4 cups Pecan chunks (optional)
Pecan halves for decorating (optional)
For pie shell:
Roll out dough on lightly floured surface to generous 1/8 inch thick round. Transfer to a 9 or 10 inch pie dish. Trim edge to 3/4 inch overhang. Fold overhang under and crimp edge decoratively. Refrigerate while making filling.
For filling:
Boil or bake (325 F) yams with the skin until they easily break apart when stabbed with a fork. Cool yams slightly. Remove the skin. Beat yams with mixer at medium speed, stopping frequently to remove yam fiber strings from the batter (these gather on the beaters, so just wash them off and continue to beat).
Once the strings are removed, add butter and continue to mix. Add remaining ingredients and mix thoroughly. Mix in Pecan chunks if desired.
Pour mixture into the pie shell and bake at 350 F for about an 1 hour and 15 minutes, or until the filling is well risen and set.
Transfer to a wire rack to cool and decorate with pecan halves.
Alterations: substitute yams for squash or pumpkin.