Vegetable Fried Rice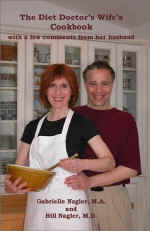 Yield: 6 servings
1-1/2 teaspoons grapeseed oil
2 scallions, thinly sliced
1 tablespoon fresh ginger root, grated
1/2 cup celery, minced
1/2 cup carrot, minced
1/4 cup daikon, minced (a large Asian radish with a sweet, fresh flavor)
6 fresh shitake mushroom caps, thinly sliced
Tamari or soy sauce
4 cups cooked brown rice
1-2 drops toasted sesame oil
Sea salt, to taste
chopped fresh scallions, chives or dill, for garnish
Heat grapeseed oil in a wok over medium heat. Warm scallions and ginger for about 1 minute. Add the rest of the vegetables and sauté. If the pan gets too dry, add a couple of tablespoons of water or stock, and cook for 1 minute.
Add a few drops of tamari and stir to incorporate. Add rice and a few more drops of tamari and a drop of toasted sesame oil. Sauté until rice is heated through. If the wok gets too dry, add a bit more water or stock.
Sauté until liquid is evaporated. Season to taste.
Garnish with finely chopped scallions, chives or dill.
Nutrition Per Serving:
Calories 176, Total Fat 2g, Saturated Fat trace, Cholesterol 0mg, Sodium 18mg, Potassium 204mg, Total Carbohydrate 35g. Dietary Fiber 3g. Protein 4g. Calcium 25mg, Iron 1mg, Zinc 1mg, vitamin C 4mg, vitamin A 3046 IU, vitamin B6 .2mg, Thiamin Hi .1mg, Riboflavin B2 .1mg, Folacin 20mcg, Niacin 2mg
Source: The Diet Doctor's Wife's Cookbook by Gabrielle Nagler and Bill Nagler
Buy the Diet Doctor's Wife's Cookbook in the US - UK - DE
more recipes from this cookbook:
- Zingy Poached Salmon for Two
- Panna Cotta with Strawberry Coulis
Featured Recipes:
Chocolate - the food of the Gods
Step-by-step cake decorating
Featured Magazine:
Dessert Professional