Zingy Poached Salmon for Two
The Diet Doctor's Wife: This recipe is quick and easy. It's an old dinner party standard.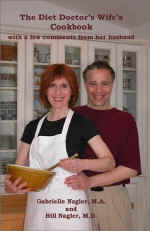 Yield: 2 servings
Vegetable oil spray
1 small onion, minced
2 cloves garlic, minced
1/2 teaspoon fresh hot chili pepper, minced
2, 6-ounce salmon fillets or other firm-flesh fish fillets, skin removed *
2 cups water
1 tomato, peeled, seeded and chopped
1 sprig thyme
Juice of 1 lime
1 bay leaf
6 black peppercorns
Sea salt, to taste
3 scallions, minced
1/4 cup fresh cilantro leaves, chopped
Coat pan lightly with vegetable oil spray. Sauté onion, garlic and chili for 1-2 minutes. Add fish, water, tomato, lime juice, thyme, bay leaf, peppercorns and salt. Bring to a boil and immediately reduce heat to simmer for 10 minutes.
Remove fish and strain broth. Place fish in shallow serving bowls. Ladle some of the strained broth over the fish.
Garnish with chopped scallions and cilantro.
Nutrition Per Serving: Calories 269, Total Fat 6g. Saturated Fat 1g, Cholesterol 88mg, Sodium 130mg, Potassium 988mg, Total Carbohydrate 17g. Dietary Fiber 4g, Protein 37g. Calcium 116mg, Iron 5mg, Zinc 1mg, vitamin C 87mg, vitamin A 1062 IU, vitamin B6 .6mg, vitamin B12 5.lmcg, Thiamin Hi .4mg, Riboflavin B2 .3mg, Folacin S6mcg, Niacin 9mg
*Note: We recommend that you use wild-caught salmon instead of farm-raised salmon.
Source: The Diet Doctor's Wife's Cookbook by Gabrielle Nagler and Bill Nagler
Buy the Diet Doctor's Wife's Cookbook in the US - UK - DE
more recipes from this cookbook:
- Vegetable Fried Rice
- Panna Cotta with Strawberry Coulis