Chocolate Espresso Cake
You can have your cake and coffee and eat them, too — in one bite! This cake is a favorite with my friends, family and anyone else who eats a piece.
Yield: 12 servings, one 10" cake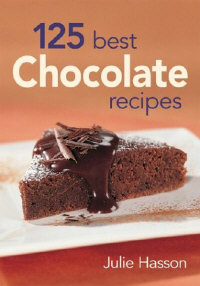 Cake
2 cups all-purpose flour
1 cup unsweetened Dutch-process cocoa powder, sifted
1 tablespoon finely ground coffee beans
1-1/2 teaspoons baking soda
1 teaspoon ground cinnamon
1/2 teaspoon salt
1/4 teaspoon baking powder
2-1/3 cups granulated sugar
3/4 cup vegetable oil
3 eggs
1 teaspoon vanilla
1/4 cup milk
2 tablespoons instant coffee granules
1 cup strong brewed coffee, cooled to room temperature
6 ounces milk chocolate, finely chopped
Chocolate Glaze
5 ounces semisweet chocolate, chopped
1/2 cup whipping (35%) cream
Need: 10-inch cake pan, bottom lined with parchment or waxed paper, sides greased
Preheat oven to 350 F (180 C)
In a small bowl, combine flour, cocoa powder, ground coffee, baking soda, cinnamon, salt and baking powder, mixing well.
In a large bowl, using an electric mixer, beat together sugar and oil. Add eggs, one at a time, beating well after each addition. Add vanilla, beating well.
In a microwave-safe bowl, mix together milk and instant coffee. Microwave, uncovered, on High for 20 seconds, until just slightly warm. Mix until coffee is dissolved. Add to egg mixture, mixing well.
Stir in dry ingredients alternately with brewed coffee, making three additions of dry and two of coffee, mixing just until smooth.
Spread batter in prepared pan, smoothing top. Sprinkle chopped chocolate over batter. Lightly press chocolate into batter, but not too much or else it will all sink to bottom of pan. Bake in preheated oven for 50 to 60 minutes or until a tester inserted in center comes out clean and cake starts to pull away from sides of pan. Let cake cool in pan on a rack for 15 minutes.
Chocolate Glaze:
In a microwave-safe bowl, combine chocolate and cream. Microwave, uncovered, on Medium (50%) for 1 minute, stirring every 30 seconds, or until cream is hot and chocolate is starting to melt. Stir well until chocolate is melted and mixture is thick and smooth. If chocolate is not completely melted, return to microwave for another 10 to 20 seconds or until chocolate is soft and melted. Stir well. If glaze is very thin, let stand for a few minutes to thicken slightly.
Carefully invert cake onto a large plate. When cake is cool, pour glaze over top. Refrigerate until glaze is firm. This cake looks great garnished with a sprinkle of chocolate-covered espresso beans or grated or finely chopped chocolate or decorated with your favorite cake decorating theme.
Variations:
This cake can be baked in a Bundt pan, but omit the chopped chocolate. (The chocolate will sink to the bottom and make pan removal almost impossible.) If baking it into a Bundt cake, serve it with a dark chocolate sauce to make up for the missing chopped chocolate in the cake.
Other shapes and sizes:
Yields approx. 12 cupcakes (depending on size) or 1 single layer 11 x 15 inch sheet cake.
Double Recipe for a 2 layer 9 x 13 quarter sheet cake. Buy baking pans.
Source: 125 Best Chocolate Recipes by Julie Hasson
Buy this book at the UK or US shop!
More Recipes from 125 Best Chocolate Recipes:
- Chocolate Coconut Clouds
- Banana Chocolate Breads
Use a Cake Decorating Kit to decorate this cake!