Chocolate Coconut Clouds
These chocolate cookies are the perfect size when you want something big and chocolaty. I like to serve them for dessert, lightly dusted with confectioner's sugar. But even without the dusting their taste and texture is so light and airy, just like a cloud. Alternatively, you can make these much smaller, scooping them by the teaspoon.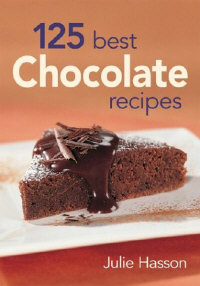 Yield: 16 large cookies
8 ounces bittersweet chocolate, chopped
4 egg whites
3/4 cup granulated sugar
2 cups packed sweetened flaked coconut
Need: 2 baking sheets, lined with parchment paper
Preheat oven to 350 F (180 C)
In a microwave-safe bowl, microwave chocolate, uncovered, on Medium (50%) for 1 to 2 minutes, stirring every 30 seconds, or until chocolate is soft and almost melted. Stir until completely melted and smooth. Let cool slightly.
In a bowl, using an electric mixer, whip egg whites until soft peaks form. Gradually add sugar, whipping until stiff peaks form. Gently fold into chocolate just until blended. Fold in coconut.
Scoop batter with 1/4-cup measure and mound on prepared baking sheets, about 3 inches apart. Bake in preheated oven for 15 to 18 minutes or until puffed, cracked and lightly firm to the touch. Let cool completely on baking sheets on racks.
Don't make these cookies on a rainy day, as the moisture will affect the cookies (they won't be crisp, but will be sticky instead). These cookies are best eaten the day they're made.
Do not remove these cookies from the baking sheets until they are completely cool. They are quite fragile and will break if you try to lift them off the parchment paper too early.
Source: 125 Best Chocolate Recipes by Julie Hasson
Buy this book at the UK or US shop!
More Recipes from 125 Best Chocolate Recipes:
- Chocolate Espresso Cake
- Banana Chocolate Breads