Banana Chocolate Breads
Itís fun to help a recipe evolve. This one started out as a chocolate banana muffin, but then I decided that it would be fabulous as little loaves. If you canít find mini-loaf pans, donít worry. You can bake the batter in an ordinary muffin pan. See how things evolve?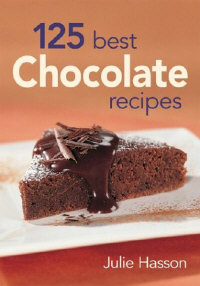 Yields: 12 mini loaves
7 ounces semisweet chocolate, coarsely chopped, divided
2 cups all-purpose flour
1 teaspoon baking soda
1/2 teaspoon baking powder
1/4 teaspoon salt
1 cup mashed ripe bananas
3/4 cup granulated sugar
1/2 cup vegetable oil
1/3 cup sour cream
2 eggs
1 teaspoon vanilla
1 cup walnut pieces
Need: 1 mini loaf pan or 12-cup muffin tin, greased
Preheat oven to 350 F (180 C)
In a microwave-safe bowl, microwave 3 ounces chocolate on Medium (50%) for 1 to 1-1/2 minutes, stirring every 30 seconds, or until chocolate is shiny and almost melted. Stir until smooth. Let cool slightly.
In a small bowl, mix together flour, baking soda, baking powder and salt.
In a bowl, beat together bananas, sugar, oil, sour cream, eggs and vanilla until smooth. Mix in melted chocolate.
Stir flour mixture into banana mixture just until combined. Stir in walnuts and remaining chocolate. Scoop batter into prepared pans.
Bake in preheated oven for 20 minutes or until a tester inserted in center comes out clean. Let cakes cool in pan on a wire rack for 5 minutes. Transfer to rack and let cool completely.
Tips
If you canít bake 12 mini loaves at a time, bake the extra batter in a muffin tin or refrigerate the remaining batter and bake once the mini loaf pan is cooled. Be sure to grease the cooled pan before adding the second batch of batter.
These cakes freeze very well. Store them in resealable plastic freezer bags for up to 1 month.
Other shapes and sizes:
Yields one 9" cake or 1 single layer 11 x 15 inch sheet cake.
Double Recipe for a 2 layer 9 x 13 quarter sheet cake and fill with your favorite frosting.
Buy baking pans.
Source: 125 Best Chocolate Recipes by Julie Hasson
Buy this book at the UK or US shop!
More Recipes from 125 Best Chocolate Recipes:
- Chocolate Espresso Cake
- Chocolate Coconut Clouds