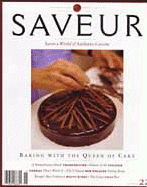 Saveur is the award-winning food and travel magazine that brings you the world of authentic cuisine through colored photos, extraordinary stories and the recipes that reflect the traditions, history and love of fine foods all over the world.
It goes back to food before it was processed, before it was light, or artificial - food so sublimely delicious you close your eyes to savor it.
Hence the name Saveur!

Receive issues full of beautiful photography, articles and page after page of international recipes for one unbeatable price.