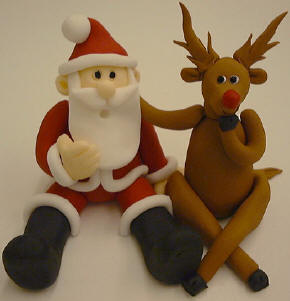 See a bigger picture
You will need:
Red, Peach, Black, Brown and White Sugar-paste (rolled fondant) or Marzipan. Buy Sugar-paste, buy Marzipan or make your own.
A small container of water
A small paint brush
Black food coloring
A small amount of Royal Icing
An icing bag
A number 2 icing tube Becknal or PME
Ball modeling tool
Curved modeling tool for making Rudolf smile :)
Ingredients, food colors and modeling tools are available at BakingShop.com.