Slow Roasted Ivory King Salmon with a Ragout of Mushrooms, Spinach and Fingerling Potatoes
Ivory salmon is a luxurious white fleshed King salmon native to certain rivers of southeast Alaska and Canada. Most salmon get their typical red or pink color from carotene in the food they eat, but white or ivory Kings are genetically predisposed with an extra enzyme to process carotene rather than collect it in their flesh. Ivory salmon tends to be milder, silkier and more and buttery in flavor than regular Kings. Ivory salmon are rare and difficult to find, but we believe they are worth the search and urge you to splurge should you encounter one at your local market.
Slow roasting fish on a bed of vegetables results in an extremely aromatic dish with a texture that literally melts in your mouth.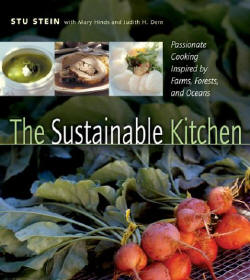 Yield: 4 servings
Ivory King Salmon
4, 5-ounce Ivory King salmon medallions, skin-off
Kosher salt and white pepper, to taste
4 stalks celery, cut into 2-inch long strips
1 medium yellow onion, cut into thin slices
Ragout
2 tablespoons vegetable oil
2 shallots, peeled and finely chopped
1/4 pound mushrooms (wild or cultivated), cleaned and quartered
1/2 pound fingerling potatoes, quartered
1 pound spinach, stems removed and cut into chiffonade (thin strips)
2 cloves garlic, finely chopped
1/4 cup white wine
1/4 cup Madeira wine (optional) or use an additional 1/4 cup of white wine
Kosher salt and cracked black pepper, to taste
To Prepare the Salmon: Preheat oven to 275 degrees.
Season salmon with salt and pepper. Place celery strips and onion in an ovenproof roasting pan, creating a rack for the salmon. Place salmon on top of celery/onion mixture. Place salmon in oven and roast for about 12 to 15 minutes, until just cooked in the center.
To Prepare the Ragout: In a medium-sized sauté pan over medium heat, add vegetable oil. Add shallots and mushrooms and sauté until soft but not colored, approximately 10 minutes. Add potatoes and continue cooking until the potatoes are slightly caramelized and tender, an additional 12 to 15 minutes. Add the spinach and garlic and toss to coat in oil. Add both wines and cook until wine is almost evaporated and the pan is almost dry. Season with salt and pepper. Keep warm. Taste and adjust seasoning.
To Serve: Place ragout in center of plate. Arrange salmon, with celery/onion strips on top of ragout.
Advance Preparation:
The ragout may be made up to two days ahead and refrigerated. Add a little oil to a hot sauté pan and heat the ragout just prior to serving.
Substitutions and Options:
Any salmon (Atlantic or Pacific) will work for this recipe but the flavor of wild Pacific salmon is best. If you choose farm-raised fish, make sure it has been raised with an appropriate vegetarian diet and according to environmentally sound methods.
Any mushroom would work for the ragout, but given the choice, we prefer the distinctive earthiness and slight dried-apricot flavors of wild Chanterelles or the firm texture of cultivated shiitake mushrooms.
Wine Notes:
Pinot Noir and salmon are fast becoming a classic match, for good reasons. You will need a wine with black stone fruit, a hint of spice and a slight earthy tone to hold up to the richness of the salmon and the mushrooms.
Recommended: 2000 McKinlay, Special Select, Pinot Noir, Willamette Valley, Oregon or 2000 Penner-Ash, Pinot Noir, Willamette Valley, Oregon. Buy Wine!
Source: The Sustainable Kitchen by Stu Stein, Judith H. Dern, Mary Hinds
Passionate Cooking Inspired by Farms, Forests and Oceans
More Recipes from the Sustainable Kitchen:
- Caramelized Assorted Root Vegetables
- Pinot Noir Granite