Caramelized Assorted Root Vegetables
Roasting vegetables is an age-old technique that releases natural sugars. By combining several vegetables and cooking them slowly until they are caramelized and sweet, we take that method one step further and achieve an enticing medley of flavors and textures. You could serve these humble root vegetables alone or with almost any roasted meat, game or poultry. Add a salad of tossed greens to your menu to round out the meal. The recipe can be doubled or tripled if necessary, but divide the mixture between several pans so the cooking process is not affected.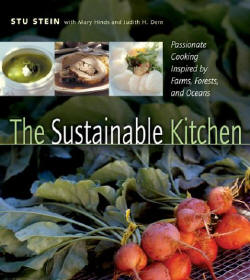 Yield: 4 side dish servings
4 ounces pearl onions
1 head garlic
4 carrots
2 parsnips
2 turnips
2 Yukon Gold or other waxy potatoes
4 tablespoons extra virgin olive, plus more if needed
Kosher salt and cracked black pepper, to taste
Preheat oven to 350 degrees.
Fill a medium-sized saucepan two-thirds full with water and set over high heat. Bring water to a boil. Add onions and boil one minute or slightly longer to loosen skins. Remove onions with a slotted spoon and let cool. When onions are cool enough to handle, use a paring knife to loosen skins, then slip off the skins and discard. Set onions aside.
Separate the head of garlic into cloves and lightly smash each clove using the side of a large knife to loosen the skin. Remove the skin and set garlic cloves aside. Peel carrots and parsnips, then cut into pieces about 2-inches long. Peel turnips and potatoes, halve lengthwise, then cut each half into 1-inch thick slices. Set all vegetables aside.
In a large, heavy roasting pan or in a large, ovenproof sauté pan, heat olive oil over medium-high heat until almost smoking. Add the vegetables and sauté, stirring, for 5 minutes. Remove the pan from heat and season vegetables with salt and pepper.
Transfer pan with vegetables to oven. Roast, stirring every 5 minutes, until vegetables are lightly browned and tender when pierced with a knife, 30 to 35 minutes. If the vegetables start to stick to the bottom of the pan while roasting, add 1 to 2 tablespoons additional oil and toss again.
Remove pan from oven and taste and adjust seasoning.
Advance Preparation:
These vegetables are best served immediately after they come out of the oven, but if you prefer, you can roast them ahead and reheat them just before serving.
Substitutions and Options:
Any root vegetables will work; you may omit or add vegetables to suite your tastes and what is available in the market.
Wine Notes:
For the best pairing, match the wine with main component of the meal. If serving this recipe as a dish by itself, find a white wine with cedar and toast in the finish to match to the caramelization of the vegetables – smoky not oaky.
Recommended: 2000 Chateau Montelena, Chardonnay, Napa Valley, California or 2000 Domaine Laroche, Chablis, Les Blanchots, Burgundy, France. Buy Wine!
Source: The Sustainable Kitchen by Stu Stein, Judith H. Dern, Mary Hinds
Passionate Cooking Inspired by Farms, Forests and Oceans
More Recipes from the Sustainable Kitchen:
- Slow Roasted Ivory King Salmon with a Ragout of Mushrooms, Spinach and Fingerling Potatoes
- Pinot Noir Granite