Pinot Noir Granite
Granité, if you are French, or granita if you are Italian, is a grainy, frozen mixture of sugar, water and a flavored liquid. A sorbet or sherbet on the other hand is prepared with a higher proportion of sugar to liquid, and frozen in a conventional, beater-type ice-cream maker to make a creamy, smooth almost ice-cream-like consistency. Granités always have a distinctive granular texture as the name suggests.
This wine granité is light, easy to make and not as icy as traditional granités or as sweet as sorbet. It makes a great a wonderful base for those perfect late summer berries.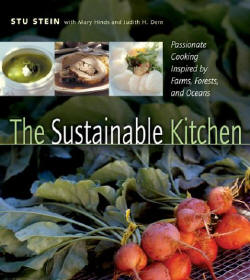 Yield: 4 servings, approximately 5 cups
1 lemon, juice and zest finely chopped, separated
1 orange, juice and zest finely chopped, separated
1-1/2 cups water
1-1/2 cups sugar
2 whole cloves
2 whole star anise
2 whole allspice berries
5 whole black peppercorns
1-1/2 cups Pinot Noir wine
Combine lemon zest, orange zest, water, sugar, cloves, star anise, allspice and black peppercorns in a stainless steel saucepan. Place pan over medium heat and simmer 5-10 minutes or until sugar is dissolved and the spices are infused into the syrup. Allow syrup to cool completely.
Mix the lemon juice, orange juice and Pinot Noir into the cooled syrup. Strain the mixture into a freezer-safe shallow glass or stainless steel dish. Cover the dish with plastic and place in the freezer.
With a fork, stir and scrap the granité every 30 minutes until ice crystals are formed and the mixture is firm, approximately 2 hours.
To Serve:
Spoon the granité into a bowl and top with a mixture of fresh berries. Serve immediately.
Advance Preparation:
The syrup can be made up to a week ahead and the granité can be made several days ahead and kept tightly covered in the freezer.
Substitutions and Options:
Almost any fruit-forward wine, red or white, will work in place of the Pinot Noir. To make a citrus-flavored granité, substitute 1 1/2 cups of citrus juice for the wine.
Wine Notes:
A light and refreshing, not overly sweet sparkling wine or dessert wine will work well with the ice. Recommended: 2001 Silvan Ridge, Early Muscat, Semi-Sparkling, Oregon or for delightful rosé try 1998 Hyatt, Black Muscat, Yakima Valley, Washington. Buy Wine!
Source: The Sustainable Kitchen by Stu Stein, Judith H. Dern, Mary Hinds
Passionate Cooking Inspired by Farms, Forests and Oceans
Buy the Sustainable Kitchen book in the US - DE - UK
More Recipes from the Sustainable Kitchen:
- Slow Roasted Ivory King Salmon with a Ragout of Mushrooms, Spinach and Fingerling Potatoes
- Caramelized Assorted Root Vegetables