Thai Fettuccine Primavera
I first started making this Thai-meets-Italian dish about 15 years ago. I was crazy for everything Thai, eating in Thai restaurants and cooking familiar dishes with a Thai twist at home. Now that I've got little ones in the house to keep me busy, I make most Thai food with prepared curry mixes and canned coconut milk. Despite the shortcuts, this still has fabulous flavor. And quite a kick!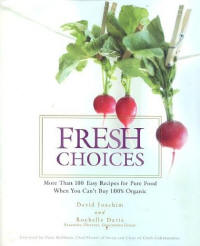 Yield: 4 to 6 servings
1 pound fettuccine, preferably whole grain
1 tablespoon peanut oil or GMO-free vegetable oil
2 heads broccoli, cut into florets (about 5 cups)
2 organic bell peppers (preferably red and yellow), cut into short strips
2 teaspoons minced fresh ginger
2 cloves garlic, minced
1 can (14 ounces) regular or reduced-fat coconut milk
2 tablespoons Thai red curry base
1 tablespoon brown sugar
1/4 cup chopped peanuts
1/4 cup chopped fresh cilantro or basil
Cook the fettuccine in a large pot of boiling salted water until just tender yet slightly firm in the center, about 8 minutes.
Meanwhile, heat the oil in a wok or large, deep skillet over medium-high heat. When hot, add the broccoli and stir-fry for 10 seconds. Add a tablespoon or two of the pasta water, cover, and steam until the broccoli is just bright green and barely tender, 1 to 2 minutes. Add the peppers and stir-fry for 1 minute. Add the ginger and garlic and stir-fry for 1 minute more. Remove to a bowl and cover to keep warm.
Add the coconut milk, curry base, and brown sugar to the pan and return to medium-high heat. Bring to a boil, whisking until thoroughly mixed. Reduce the heat to medium and simmer for 5 minutes.
Drain the pasta and put in a large bowl or return to the pasta pot. Mix in a few tablespoons of the curry sauce just to moisten the pasta. Stir the vegetables into the remaining sauce.
Divide the pasta among plates and top with the vegetables and sauce. Sprinkle with the peanuts and cilantro or basil.
Helping Hand: Look for Thai red curry base in large packets in the international aisle of most grocery stores. You can also use the red curry paste that's available in small jars, but use about half as much because it's twice as potent.
Nutrient Boost: To add protein to the meal, stir in 1 cup Tofu Bites along with the ginger and garlic.
Source: Fresh Choices by David Joachim & Rochelle Davis
More than 100 Easy Recipes for Pure Food When You Can't Buy 100% Organic
Buy the Fresh Choices cookbook in the US - DE - UK
More Recipes from Fresh Choices:
- Grilled Salmon with Pineapple Ginger Salsa
- Mocha Pudding Cake
- Berry-Stuffed French Toast