Berry-Stuffed French Toast
Some days are meant for luxuriating in the unplanned expanse of the morning. French toast is tailor-made for those days. Assemble the dish the night before and you'll be ready for a leisurely morning meal whenever it suits you. For the bread, choose a rather wide loaf so there's plenty of room to cut a pocket and spoon in the sweetened cream cheese filling.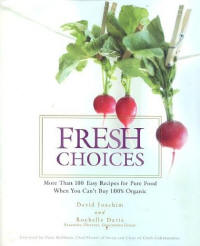 Yield: 4 servings
1 loaf Italian or French bread
8 ounces organic reduced-fat cream cheese, at room temperature
4 tablespoons confectioners' (powdered) sugar
1/2 teaspoon almond extract
1/3 cup dried blueberries
1/3 cup dried cranberries
4 pasture-raised or organic eggs
2 pasture-raised or organic egg whites
1-1/2 cups organic 2% milk
1 teaspoon vanilla extract
Pinch of salt
Cut off and discard a small diagonal slice from each end of the bread. Cut the bread on a diagonal into about ten 1"-thick slices. Cut a slit through the top crust of each slice to form a deep pocket.
In a medium bowl, mix together the cream cheese, 3 tablespoons sugar, and the almond extract. Stir in the blueberries and cranberries. Spoon the filling equally into the bread pockets and lay the stuffed slices of bread in a shallow 4-quart baking dish, such as a 15" x 10" dish.
Clean and dry the bowl and then use it to whisk together the eggs, egg whites, milk, vanilla extract, salt, and the remaining 1 tablespoon sugar. Pour the mixture evenly over the bread. Turn the slices to coat completely. Let stand for 5 minutes or cover and refrigerate up to 8 hours (overnight).
Coat a nonstick griddle or skillet with cooking spray and heat over medium heat. When hot, cook the bread in batches until browned on each side, about 4 minutes per side. Serve immediately.
Helping Hand: For a simple blueberry syrup, toss about 1/4 cup fresh blueberries into a small microwavable pitcher with 1/4 teaspoon ground cinnamon and 1/2 cup pure maple syrup. Microwave on high until heated through, 30 to 45 seconds. Or top the toasts with blueberry jam instead.
Source: Fresh Choices by David Joachim & Rochelle Davis
More than 100 Easy Recipes for Pure Food When You Can't Buy 100% Organic
Buy the Fresh Choices cookbook in the US - DE - UK
More Recipes from Fresh Choices:
- Thai Fettuccine Primavera
- Grilled Salmon with Pineapple Ginger Salsa
- Mocha Pudding Cake