Bumpy Witch Fingers - Bumpy Herbed Breadsticks
Fragrant fresh herbs and flavor-packed sesame seed make for hearty breadsticks unlike any others you've tried.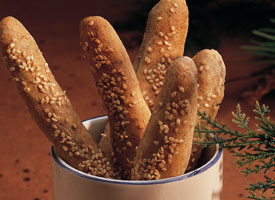 Yield: 2 dozen breadsticks
1 package (1/4 ounce or 2 1/4 tsp) regular or quick active dry yeast
1 cup warm water (105 F to 115 F)
2 cups Gold Medal all-purpose flour
1 1/2 tablespoons chopped fresh basil leaves or 1 1/2 teaspoons dried basil leaves
1 tablespoon chopped fresh tarragon leaves or 1 teaspoon dried tarragon leaves, if desired
2 tablespoons vegetable oil
1 teaspoon salt
1 to 1 cups Gold Medal whole wheat flour
Cornmeal
1 egg white
2 tablespoons cold water
Sesame seed
Dissolve yeast in warm water in large bowl. Stir in all-purpose flour, basil, tarragon, oil and salt. Stir in enough whole wheat flour to make dough easy to handle (dough will be soft).
Turn dough onto surface lightly sprinkled with whole wheat flour. Knead about 5 minutes or until smooth and elastic. Place dough in greased bowl; turn greased side up. Cover and let rise in warm place 1 to 1 1/2 hours or until double. (Dough is ready if indentation remains when touched.)
Grease 2 cookie sheets; sprinkle with cornmeal. Punch down dough. Divide into 24 equal parts. Roll and shape each part into rope, about 8 inches long, sprinkled with whole wheat flour if dough is too sticky. Place on cookie sheet. Cover and let rise in warm place 30 to 40 minutes or until double.
Heat oven to 400 F. Mix egg white and cold water; brush on breadsticks. Sprinkle with sesame seed. Bake about 15 minutes or until golden brown. Immediately remove from cookie sheets. Serve warm or cool.
Make these breadsticks up to 2 months before you need them. Place cooled breadsticks in a heavy-duty plastic food-storage bag; seal tightly and label. Before serving, unwrap and let stand at room temperature for 10 minutes.
Serve with salsa or pizza sauce for bloody Witch Fingers.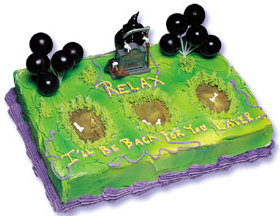 More Halloween Recipes
and Halloween Cake Decorating Supplies
Source: Gold Medal Flour, a Reg. TM of General Mills, Inc.