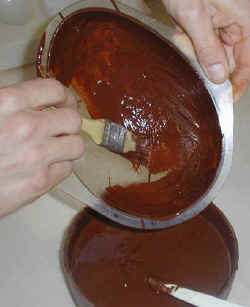 Using a brush, coat the 8" mold with dark chocolate.
After the first coat of chocolate has dried, add a second coat.
Add more coats of chocolate if necessary.
Make sure the chocolate has dried before adding a new coat.
The egg halves should be approximately 1/12" thick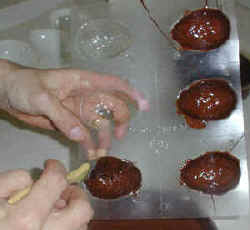 Using dark chocolate, coat the 3" mold and the 2.5" molds in the same manner.
It is always a good idea to make additional egg halves. Some may brake when un-molding or during assembly. Left-over chocolate halves can always be re-melted or used for other decorations.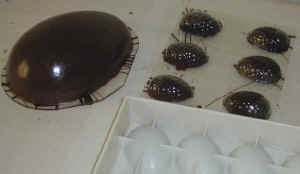 As you let the molds dry, turn them over to spread the chocolate evenly and to get slightly thicker edges.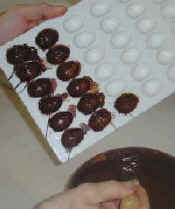 Bring the milk chocolate back to 84 F. Using a new brush, coat the 5" mold and the 1 1/4" molds with milk chocolate following the same steps as with the dark chocolate.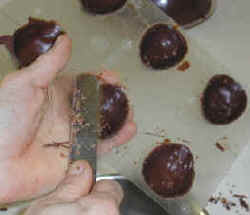 When the chocolate has dried, using a spatula, scrape off the extra chocolate from the edges of the molds.
Gently, unmold all of the eggs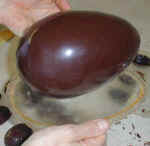 Next: Assemble the chocolate eggs