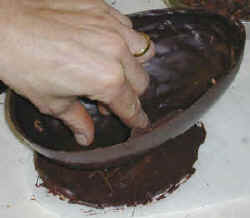 To form a base, spread some dark chocolate onto wax paper and let dry. Brush some chocolate at the bottom of one half of the 8" egg and attach the egg to the base.
This will become the hay nest.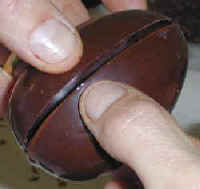 The next step is to create the different body parts.
To make a complete egg, attach 2 halves by spreading a thin layer of chocolate onto the edges and by holding the halves to one another until the chocolate has set.
The body, the head and the legs are made from complete eggs. Create one 5" egg for the body, one 3" egg for the head and two 2.5" eggs for the legs.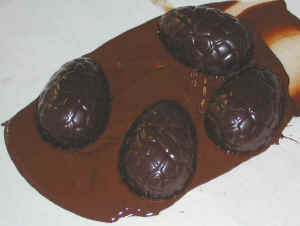 The arms and feet are made out of closed egg halves.
For the feet, spread dark chocolate onto wax paper and put two 2.5" egg halves on top. Let set slightly.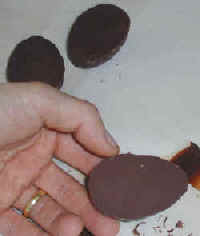 When the chocolate has hardened slightly, follow the shape of the eggs with a knife to cut out the egg halves.
For the arms, spread milk chocolate onto wax paper and add the 1 1/4" eggs. Let dry and cut out.

Next: Build the bunny