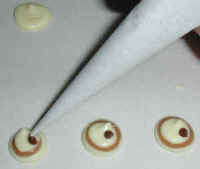 To create the eyes and buttons, fill one decorating bag with tempered white chocolate, one bag with milk chocolate and one bag with dark chocolate.
First, using the white chocolate, pipe dots onto wax paper.
For the eyes only, using the milk chocolate, pipe a smaller dot onto the white chocolate dots. Then again a smaller dot with white chocolate and finally a tiny drop of dark chocolate.