Jack-o'-Lantern Burgers
It's fun to "carve" cheesy faces for these nicely seasoned burgers. Hungry trick-or-treaters welcome the hearty sandwiches. They're a can't-miss entree for a casual holiday get-together.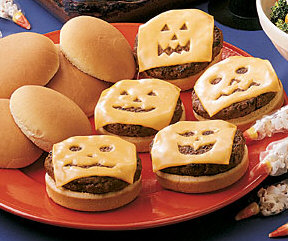 Yield: 10 servings.
1 envelope onion soup mix
1/4 cup ketchup
2 tablespoons brown sugar
2 teaspoons prepared horseradish
2 teaspoons chili powder
2-1/2 pounds ground beef
10 slices process American cheese
10 hamburger buns, split
In a bowl, combine soup mix, ketchup, brown sugar, horseradish and chili powder. Add beef; mix well. Shape into 10 patties. Grill, broil or pan-fry until meat is no longer pink.
Cut eyes, nose and mouth out of each cheese slice to create a jack-o'-lantern. Even the kids can get into this, they can cut their own with a butter knife or play dough tool (cleaned of course).
Place cheese on burgers; cook until cheese is slightly melted, about 1 minute. Serve on buns.
Source: Taste of Home - subscribe to Taste of Home Magazine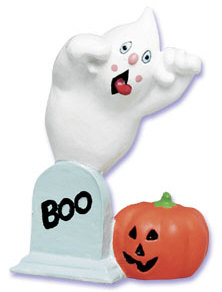 More Halloween Recipes
and Halloween Cake Decorating Supplies