Graveyard Cake
Underneath the tasty tombstones, ghosts, pumpkins, worms and soil that make this dessert a conversation piece, you'll find a delectable chocolate cake made from scratch in a few simple steps.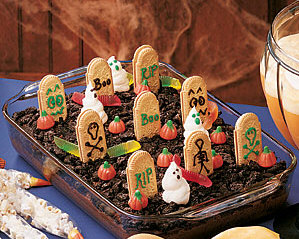 Yield: 16 servings.
Cake:
2 cups all-purpose flour
2 cups sugar
1 teaspoon baking soda
1/2 teaspoon salt
1 cup butter or margarine
1 cup water
1/4 cup baking cocoa
1/2 cup sour cream
2 eggs
Frosting:
1/4 cup butter or margarine
3 tablespoons milk
2 tablespoons baking cocoa
2 cups confectioners' sugar
1/2 teaspoon vanilla extract
18 cream-filled chocolate sandwich cookies
9 cream-filled oval vanilla sandwich cookies
1 cup whipped topping
Green and brown decorator's icing or piping gel
Pumpkin candies and gummy worms, optional
In a mixing bowl, combine flour, sugar, baking soda and salt; set aside. In a saucepan over medium heat, combine butter, water and cocoa; bring to a boil. Add to flour mixture; beat well. Beat in sour cream and eggs.
Pour into a greased 9-in. x 13-in. x 2-in. baking pan. Bake at 350 F for 35-38 minutes or until a toothpick inserted near the center comes out clean. Cool on a wire rack for 5 minutes.
Meanwhile, in a saucepan, combine butter, milk and cocoa; bring to a boil. Remove from the heat; stir in sugar and vanilla. Pour over the warm cake. Crumble chocolate cookies; sprinkle over frosting while still warm. Cool completely.
For tombstones, use icing to decorate vanilla cookies with words or faces; place on cake. For ghosts, make mounds of whipped topping; use icing to add eyes and mouths as desired. Refrigerate for at least 1 hour.
Just before serving, add pumpkins and gummy worms if desired.
Source: Taste of Home - subscribe to Taste of Home Magazine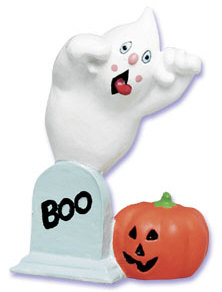 More Halloween Recipes